Pickleball is the latest sports craze to hit the outdoor courts in Ocala. This sport has especially grown in popularity in the 55 and better communities. So if you are moving to the area and are looking for a neighborhood with pickleball courts, we have plenty to choose from.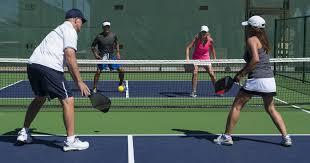 If you are not familiar with the sport, Pickleball is a paddleball sport that combines elements of tennis, badminton, and table tennis. Two or four players use solid paddles made of wood or composite materials to hit a perforated polymer ball, similar to a Wiffle Ball, over a net. The sport shares features of other racquet sports, the dimensions and layout of a badminton court, and a net and rules somewhat similar to tennis, with several modifications. Pickleball was invented in the mid 1960s as a children's backyard game. Sources say the game was named after a family dog named Pickle.
Several neighborhoods in Ocala now have courts specific to pickleball where as some have modified tennis courts. Below is a list of communities with courts available.
Summerglen – Summerglen has several courts that are specific for Pickleball and a few courts for just tennis. This neighborhood is a little off the beaten path compared to other communities but it does not lack in activities.
Oak Run – This community offers courts in a park like setting under gorgeous oak trees. Probably one of my favorite courts just for the setting alone.
On Top of the World– This expansive community boast the most courts of any community. In 2012 they doubled the amount of courts they have to now include 12, 6 of which are lighted and open until 9pm. If you live in Candler Hills or Indigo East sections, you may purchase a pass to allow access to the courts.
Spruce Creek Preserve, Stone Creek, Cherrywood, and a few other communities have pickleball lines painted on the tennis courts for multi-sport use.
If you want to see homes in any of these communities just let me know! Until then, have fun on the courts!